Sixt rent a car es la empresa líder del sector de alquiler de coches en Alemania y ofrece a sus clientes de España la posibilidad de alquilar un coche moderno y barato. Sixt renueva constantemente su flota de vehículos, lo cual le permite ofrecer los últimos modelos de las marcas más distinguidas del mercado como, p. ej.: Smart, MINI, Volkswagen, Audi o Mercedes-Benz.
Si tienes carnet de conducir y un mínimo de 18 años, puedes alquilar un coche con nosotros sin ningún problema, ya que contamos con coches para conductores noveles. La gama de vehículos disponibles para estudiantes incluye, entre otros, coches económicos como el Smart fortwo, utilitarios como el Opel Corsa o el Volkswagen Polo, y compactos como el Peugeot 3008 o el Volkswagen Golf.
Visita nuestra página web y consulta los descuentos exclusivos para los socios de la ESN (hasta un 15% de descuento para alquileres en la Península, en Mallorca o Ibiza. Tenemos sucursales en Madrid, Barcelona, Bilbao y otras ciudades universitarias españolas. Solo tendrás que encontrar la oficina más cercana y seleccionar la categoría que más te gusta. ¡Anímate y diviértete con nuestros coches de alquiler!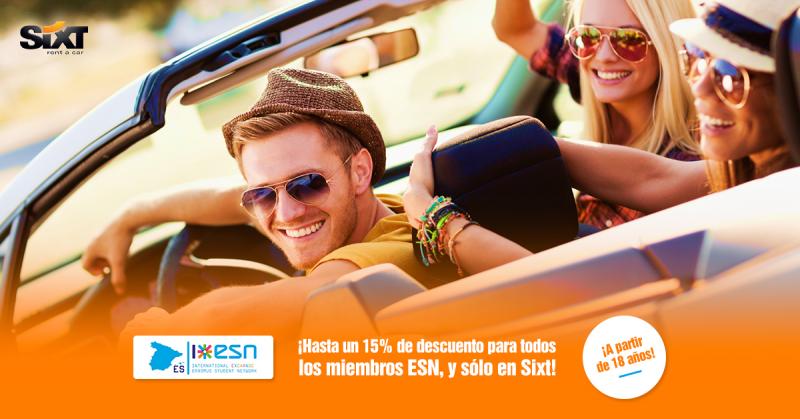 Sixt rent a car, Germany's number one car rental company, offers all its customers in Spain a wide range of services and up to date rental vehicles. Sixt provides the latest car models available on the market by regularly replacing its rental fleet. Our selection of vehicles includes those from car manufacturers like Smart, MINI, Volkswagen, Audi and Mercedes-Benz.
Those 18 years and older with a valid driver's license can easily hire a car with our company. No matter what kind of car you are looking for, there are plenty of options with our rental car services for students. Our fleet includes cars like the Opel Corsa and the Volkswagen Polo, compact city models like the Smart fortwo or supermini, small family cars like the Volkswagen Golf; and many others. 
For information about our best deals take a look at our website, and our Facebook and Twitter sites, as we are continually updating our offers and rental fleet for ESN members (you can save up to 15% on car rentals in Mainland Spain, Mallorca and Ibiza). You can find us in Madrid, Barcelona, Bilbao and other Spanish university cities. Simply find our rent a car branch closest to you and choose the car model you would like. Get ready to have some fun with our rental cars!
 LINK PARA RESERVAS: